Restore Life Physiotherapy Waterloo offers a wide range of physiotherapy services and treatments to treat all types of pain caused by different conditions or injuries. We have always been dedicated to our local community of Waterloo to help them regain, restore, and revive their health and fitness. At Restore Life Physiotherapy Waterloo, you will get personalized care from our experienced team of physiotherapists at every step of the way. 
Get back to doing what you love! Contact our Waterloo clinic today and book an appointment today.
What are the different types of physiotherapy?
1. Physiotherapy for Sports Injuries 
Who doesn't love to engage in sports, outdoor activities, or exercises? You don't have to be an expert or an athlete when it comes to playing sports however, sometimes unfortunate incidents result in sports injuries. Sports injuries may occur while performing any athletic activity, it may be weightlifting at the gym or swinging golf driver.
We, at Restore Life Physiotherapy Waterloo, take pride in treating sports injuries. We care for our community in Waterloo and offer tailored physiotherapy treatments for different patients with sports injuries. Our team of licensed, highly trained, and experienced physiotherapists have designed these type of physiotherapy treatments for a myriad of sports injury patients.
After physical evaluations, we carefully curate a physiotherapy treatment plan tailored to the patient's condition in order to maximize the impact and improve the results of physiotherapy treatments. This may include a combination of manual therapy, massage therapy, custom orthotics, and shockwave therapy.
Also read, which types of Sports injuries we treat at Restore Life Physiotherapy Waterloo.
2. Physiotherapy for Musculoskeletal Reasons
Physiotherapy plays a key role in treating and alleviating pain caused by musculoskeletal reasons like back pain, knee pain, arthritis, etc. This type of physiotherapy is also known as Musculoskeletal Orthopaedic Physiotherapy. We at Restore Life Physiotherapy Waterloo place a strong emphasis on treating muscle and joint conditions including neck pain, back pain, shoulder pain, ligament sprains, tendon injuries, and many more, and ensure that patients return to their normal and optimal level of function after the physiotherapy treatment.
This type of physiotherapy comprises complete restoration and unrestricted function of the musculoskeletal system of our bodies. Physiotherapists sometimes also work simultaneously with chiropractors to provide the best possible care and treatment according to the patient's need. Looking to gather more information about chiropractic care at Restore Life Waterloo, click here
3. Physiotherapy after a surgery
Rehabilitation and pain management post-surgery is as important as it is pre-surgery. Our team at Restore Life Waterloo, with their extensive knowledge and experience, focuses on coping up strategies with post-surgery. Post-surgery challenges may include swelling or inflammation, loss of motion, or difficulty in resuming daily activities.
Our physiotherapists will help you with a tailored physiotherapy treatment plan, including some treatment methods like shockwave therapy, laser therapy, and massage therapy for strengthening the body with simple and effective exercises that will help gain back your independence. Through these deliberately created customized treatments, we will make sure that you achieve optimal physical functioning!
4. Physiotherapy for Neurological Reasons
Physiotherapy is an imperative part of rehabilitation following neurological problems like stroke, multiple sclerosis, or Parkinson's disease. That's why Restore Life Physiotherapy Clinic Waterloo has a diverse team of experienced physiotherapists!
Physiotherapy treatments help restore movement and regain strength, enabling patients with such problems to become more independent. A physiotherapist also advises on exercises and physiotherapy treatment plans to tackle bladder problems, treat tremors, and improve the overall well-being of the patient. Restore Life Physiotherapy Waterloo Clinic can help.
5. Physiotherapy for Cardiovascular
Cardiovascular diseases include conditions that relate to heart and blood circulation which can be a heart attack, stroke, or angina. How Can physiotherapy help? Well, it has been studied that cardiac rehabilitation is effective. It not only improves overall health with a suitable exercise schedule but puts you back on your feet both physically and mentally. You can see and understand the bone is broken, but cardiac problems take a toll on the patient's mental health too. If you are in Waterloo and in need of cardiovascular rehabilitation, we can help!
6. Physiotherapy for Vestibular Rehabilitation
Do you ever feel unsteady? Or you don't feel sure-footed? Do you find yourself reaching out for support? If you find yourself answering yes to any of these questions, you may be experiencing balance or gait disorder. Vestibular Rehabilitation is the type of physiotherapy that helps people with this type of disorder to regain and restore their body balance. Not many people are aware but, body balance is associated with a fluid present in the inner ear and it plays an important role therefore, it is highly recommended that you don't ignore these symptoms because they may lead to conditions such as chronic dizziness or vertigo which can result in sudden fall or injury.
If you are experiencing any type of dizziness, or nausea, or have improper body balance, our Physiotherapists can help! 
Read more about Physiotherapy here.
7. Geriatric Physiotherapy
As we get older, our body becomes prominent and prone to several conditions relating to our old age. We provide quality physiotherapy programs and treatments for our seniors in Waterloo to prevent these conditions to happen and to manage geriatric symptoms that may be painful. This type of physiotherapy helps them with fitness, recreational activities, and maintaining a healthy and active lifestyle. We love our seniors in Waterloo and their health, contact us today!
Attention Seniors! We have a special offer for you.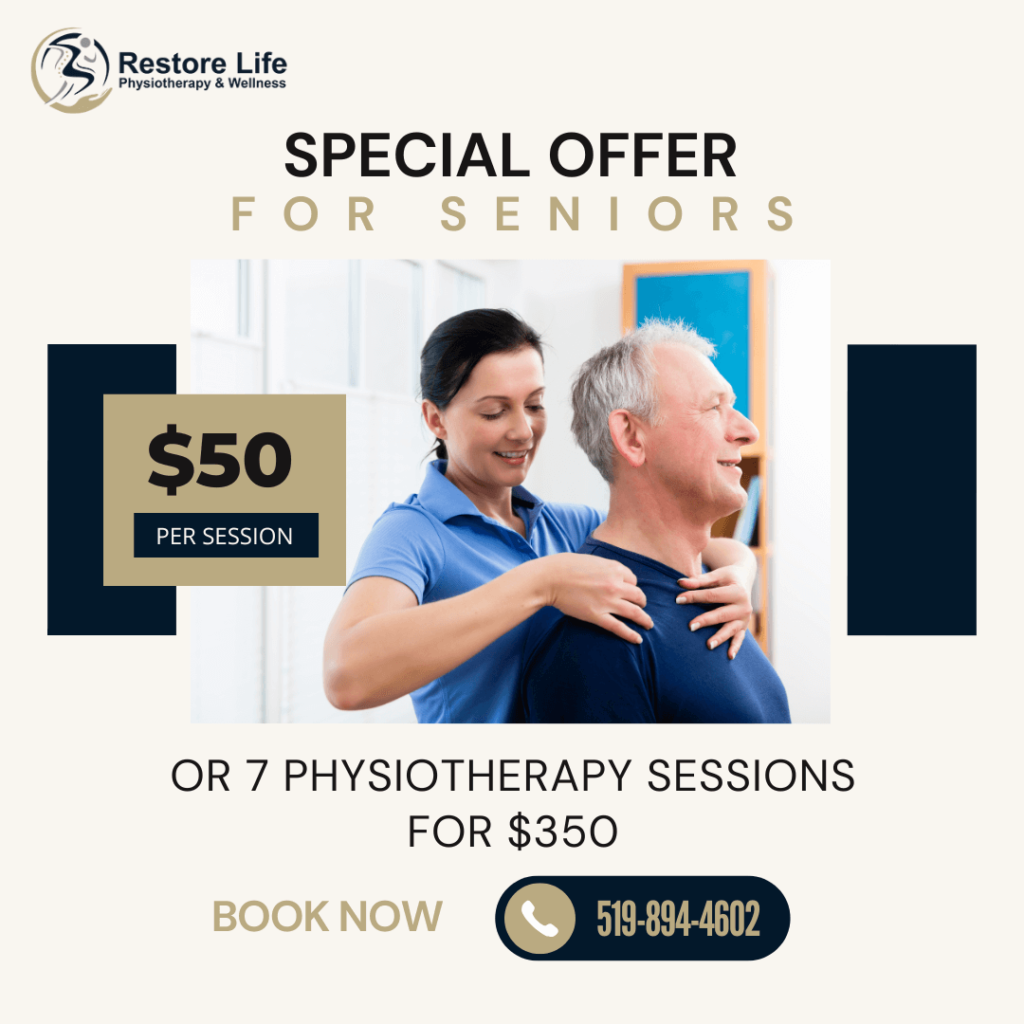 8. Physiotherapy after an Acquired Brain Injury (ABI)
Dizziness and headache are common after a traumatic Brain Injury (TBI) or Acquired Brain Injury (ABI). Our licensed physiotherapists at Restore Life Physiotherapy Waterloo clinic work around the clock to understand, identify and treat these symptoms. Headaches and Concussion can also be triggered after a head injury, sports injury, or acquired brain injury. Moreover, many people may not know this, but headaches can be of different types which develop from varied causes. Don't let medicines or painkillers be your friend, contact Restore Life Physiotherapy Waterloo for an assessment and target the root cause of the pain.
9. Physiotherapy for TMJ (Temporomandibular Joint)
TMJ Dysfunction or jaw pain can be frustrating because it hinders everyday functions like speaking and chewing. This painful and debilitating condition can occur because of misalignment of jaws, grinding, posture, or injury but our highly trained physiotherapists can successfully eliminate your symptoms. 
Our physiotherapists assess the root cause of pain and create a treatment plan to help them improve TMJ mobility, reduce muscle tension, and strengthen the jaw muscles. In this type of physiotherapy treatment, physiotherapists at Restore Life may also prescribe postural training to strengthen postural muscles and adjust your workstation to promote a better body position. 
Physiotherapy in Waterloo
We love Waterloo and Waterloo Community and we take pride in being part of the Waterloo Community. Restore Life aims to Restore, Recover, and Regain the strength, mobility, and function of your body. If you are looking for Physiotherapy Services in Waterloo, we can help! We have a highly trained and experienced team of physiotherapists who are committed and dedicated to working with you on your recovery journey. We offer Physiotherapy treatment services, chiropractic care, custom orthotics, and massage therapy treatments to get you back on your feet.
Restore Life is here to help. Book an appointment today